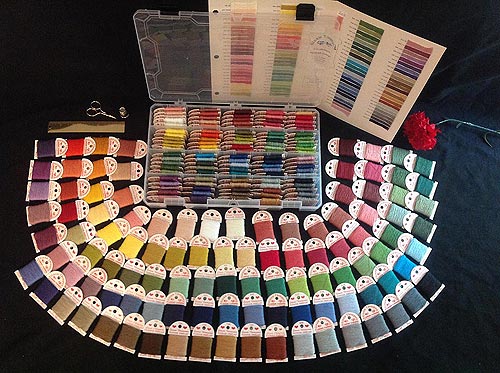 Dyed to match the colors our great-great-grandmothers would have made, Ginnie Thompson Flower Thread® provides a unique tie with the past. It's thickness and texture resemble a very high-quality homespun needlework fiber characterized by softness and vivid colors matching traditional nut and berry dyes.
Ginnie Thompson Flower Thread® is thicker than floss so only one strand is needed on most popular fabric counts; you don't have to worry about twisted threads in your stitches. It is wound on a card for extra convenience. Remove only what you need and never have to unsnarl a tangled skein. Sold by the card or full assortment. Ginnie Thompson Flower Thread is made in America.
Designs for Flower Thread

A variety of design catagories are offered here that call for Ginnie Thompson Flower Thread. You will find designs for Christmas, Counted Thread, Hardanger Embroidery, Samplers, Ginnie Thompson originals and fast and fun Quickie projects. You can order the designs separately or with the required Flower Thread. All designs come with complete instructions. Complete kits for some designs are also available.

Click on the Order Designs & Linen tab above to access them.

© 2022 The Flower Thread Company     Meg@FlowerThread.com